Linking up with
Clutter Free Classroom
to share my favorite recipe during the school year- Crockpot Chicken and Stuffing. Mmm, mmm, good! If you like easy peasy, few ingredients, tastes like Amish cooking, then this dish is for you!
Ingredients:
2-3 boneless, skinless chicken breasts
1 can Cream of Chicken soup
2/3 c. of milk
1 box Stove Top stuffing (chicken flavor)
Get your crockpot out and grease the bottom with a little butter. (I know, sounds like Paula Dean!)
Cube 2-3 chicken breasts (If the chicken is partially frozen, it's actually better. Two reasons: it's easier to cut and I think it makes more gravy!) After your chicken, add 1 can Cream of Chicken or cream of celery or mushroom if you like). Add 2/3 cup of milk. In a separate bowl, put stuffing mix and water(follow the box directions for amount of water, I think it's like a cup and a half?), mix to moisten the stuffing. Spoon stuffing mix over top the soup/milk. Cook on low for 4-5 hours. That's it!
I like to serve this with a few veggies, corn, green beans and some mash potatoes. You could pair it with a salad and some rolls. Wal-lah! Everyone will think you cooked all day! The chicken is so tender and the soup/milk create a creamy gravy.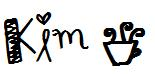 Enjoy!